Total Solar Eclipse: March 8 – March 9
Posted on March 7, 2016 by Karni Zor in Astrological Forecasts
A total solar eclipse is going to take place at March 8/March 9 – depending on where you are located in the world. Some of us will be lucky enough to see it. But seeing it or not – it's astrological affect will be strong – upon all of us.
Where:  The total eclipse will be visible from Indonesia and the Pacific Ocean.
A Partial Eclipse will be seen in Australia, South Asia and East Asia.
When: The eclipse will begin at 23:19 UTC on March 8, 2016, and its maximum point will take place at 01:59 UTC on March 9, 2016.
Astrologically Speaking…
The Solar Eclipse is the event of the two main and opposing astrological symbols colliding. Two opposite worlds conjunct.
The Moon, that represents the imagination, intuition, childhood, past, our unaware parts, femininity and much more – is covering the Sun – which represents our logic, aims, the adult part of our being and our masculine part and our consciousness.
It can be perfectly understood why people were afraid of this mysterious disappearance of the Sun in ancient times – being in a moment where logic and rules are not there!
But if we're are in a personal-development process, and up for using the celestial events for advancing our lives – we can see the bright side of this most special event –
An event in which imagination over-comes logic for a while,
Our soft and feminine side taking control over our masculine ambition,
And a time that the child inside of us overshadows the adult…
This specific eclipse is a time for us to meditate upon closure of past-lives issues and this life's early childhood wounds. This is also a time to remember all the talents we have and all we have achieved, and connect to what we have already collected in the wonderful journey of our lives, and make these precious moments known to us and available for the future.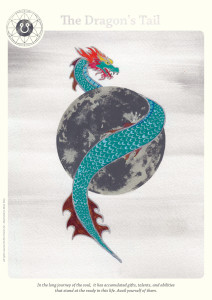 The card to meditate upon during the time of the eclipse
would be the South Node card,
from the Holistic Astrological Cards created by Karni Zor,
illustrated by Maya Toby.
Discussion