Special Forecast – Jupiter's positive Affect Till June
Posted on March 16, 2014 by Karni Zor in Astrological Forecasts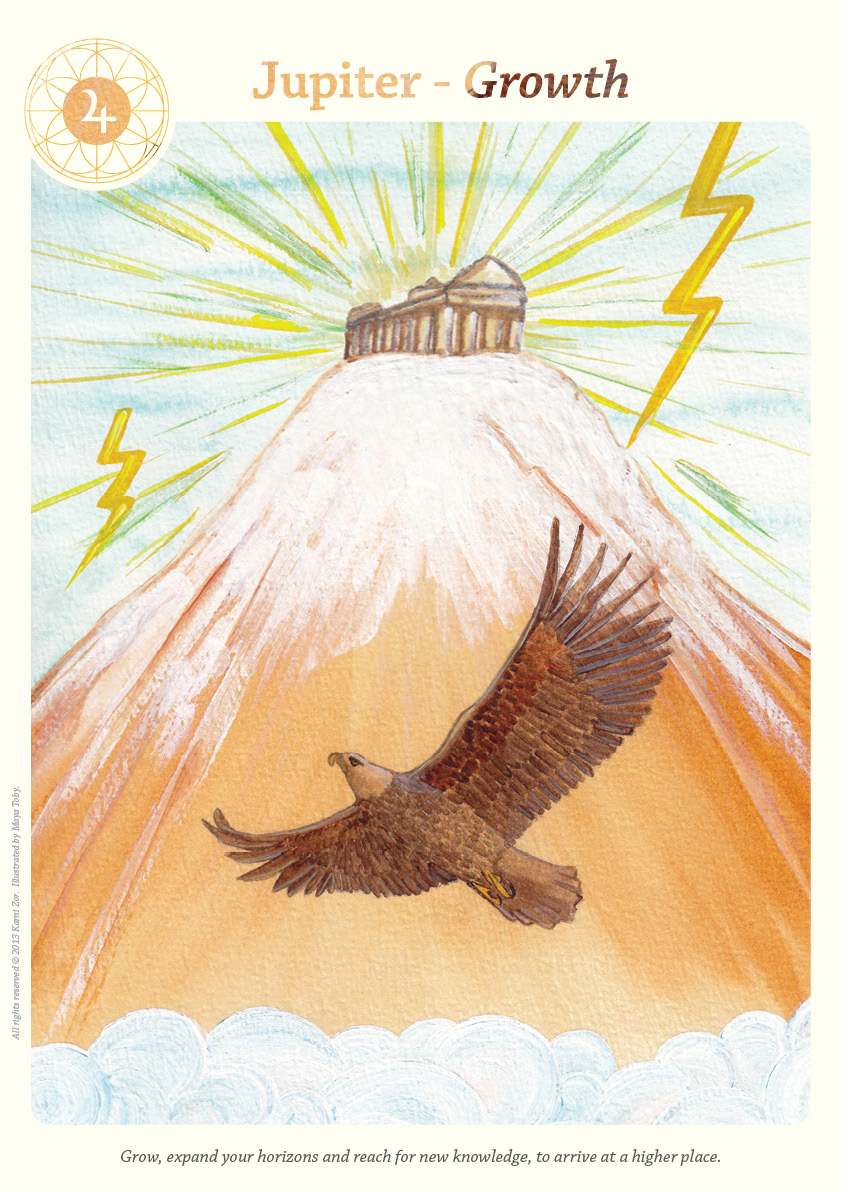 (Picture: Jupiter card from the Holistic Astrological Cards by Karni Zor, illustrated by Maya Toby).
THIS FORECAST SHOWS THE AFFECT OF JUPITER'S COURSE UPON EACH ASTROLOGICAL TRIBE TILL JUNE.
IT IS ALSO RECOMMENDED TO READ ABOUT MARS' AFFECT, AND YOUR WEEKLY FORECAST FOR THE COMPLETE PICTURE.
The Lake – For those born Between March 14 – April 12
Jupiter, planet of good fortune, who has just ended its retrogression will travel through your House of Family until June 2014. This location relates to success and expansion to do with family, kids and relationships  between you and your closest relatives. This time is likely to be a time of expansion of the family – may it be a new baby joining the family, marriage or other happy occasions.
This is also a good time for everything to do with your emotions, with the ability to really express yourself and let your inner child play freely!
The Flame – For those Born Between April 13 – May 13
Due to Jupiter going back to its regular course in your House of Communication – everything to do with communication, inter-relations, thinking and speech will be blessed until June 2014. Your ability to think, learn and express yourself will expand and there is going to be success with marketing and publicity. If you own your own business this will be the time to work on advertisement and the expansion of your market.
Your circle of friends is also going to expand: meeting new friends, giving socializing more time and having better and lighter-hearted  relationships with the people who surround you.
The Key – For those Born Between May 14 – June 14
Now and untill June, Jupiter is travelling through your House of Money – what a great house for Jupiter, planet of success, to visit in! This is a good period for matters such as money and property. Good fortune to do with cash and finances. This can be the right time to buy a house or move into a new house if you are looking to re-locate, or a time to expand the house you already live in.
If you have your own business you may see it expand and grow now!
Flow – For those Born Between June 15 – July 15
Jupiter is going to travel in its forward course in your own astrological realm for the next few months and just up until your birth day. This means a special blessed time with good fortune and the ability to grow and expand. During these months many special and good coincidences will happen to you and there will be the touch of luck and success to all that you do. This is a time of growth, a time of new beginnings and a time of development.
Jupiter allows your true self to expand and radiate fully.
This good fortune shows itself only every 12-13 years, so use this time wisely, fill yourself with the optimism and light Jupiter brings with it and allow  success to find you, by being open to it!
Giving – For those Born Between July 16 – August 15
Jupiter works on you internally. You are going towards 3 months of personal development, spiritual quests and many insights about who you actually are – diving in to the wonders of your own soul. Things that were hidden or buried inside about yourself are now going to reveal themselves. Whilst showing themselves,  wounds may be opened, or fears might appear – but being aware of all this actually allows you to take care of these things, once hidden, and heal them once and for all.
This is going to be a very successful time (up to June) for those  inclined to art or spirituality, with the ability to publish your inspiring work.
The Swan – For those Born Between August 16 – Sept 15
Jupiter now travels through your House of Vocation – and this is a most significant place for Jupiter to visit. Jupiter allows you until June to make meaningful progress  climbing the mountain of your vocation.
If your Vocation is not clear to you just yet – this is going to be a time of revelations that will allow you clearer insights about your true path.
If your vocation is clear for you – this is a time of success and expansion.Your capabilities will grow, and so will the amount of people you affect practicing your vocation.
Abundance – For those Born Between Sept 16 – October 16
Jupiter is travelling through your House of Work. Now and till June is going to be a time of real breakthroughs  concerning your career. Jupiter's location enables new beginnings and new opportunities to do with your work and workplace, as well as many small and big coincidences that enable you to leap forward towards  expansion and success.
If you are waiting to start in a new workplace – this is the time to successfully begin a new job. If you are already working in the right place for you – this is the time for advancement and growth. If you have your own business – this is the time for your business to grow and reach more crowds.
Creation – For those Born Between October 17- Nov 14
Jupiter now has a very positive effect upon you until June. This is a successful time for all of you who study or teach. A time for journeys and travelling. A time of expansion and growth in every subject, and a very optimistic time when the stars are shining down on you. A time that success and good fortune leads the way and brightens even Mars' retrogression!
The Gate – For those Born Between November 15 – December 14
Jupiter enables you now and till June to reconnect with your true inner powers, with your abilities and with your strengths. Jupiter is going to assist with your spiritual journey for the coming 3 months. Your inner worlds will  expand, and there will be more spiritual moments, more insights and more connections made.
This is also going to be a time of expanding your emotional faculties, allowing yourself to feel deeper, to better connect to the people who are close to you and expand your emotional range.
The Dolphin – For those Born Between December 15 – January 13
Jupiter moving into its forward course enables you to go out into the world and have a very successful meeting with it! It seems that things that "cooked" slowly inside of you during the last few years have come to the point where they can finally find their way out into the world. This is going to be a time of expansion and success, with new beginnings knocking on the door, continuing till June.
The territory of love and marriage becomes prominent now as well. These are a few good  months to start a relationship for those who want that, and a good time to refresh and heal your current relationship – for those already in one.
The Diamond – For those Born Between January 14 – February 12
Jupiter travels now and till June in your astrological House of Daily Maintenance and Health. Its effect will mainly be upon everyday's little details and arrangement. This is going to be a time filled with those arrangements and chores. It might sound a bit boring, but this actually a very important time to build steady foundations.
Take the coming 3 months for managing your life and work on balances inside the frame of what already is.
Take the time also to deal with your health. Give it the time and treatment it needs in order to keep it well.
The Waterfall – For those Born Between February 13 – March 13
Jupiter in its current location allows you to connect to life's joys and happiness. Now and till June you will be able to put yourself back in the center of your own life. Your self-esteem and confidence will be fortified. Take time for doing what you love to do – your hobbies and passions. Allow yourself to celebrate life and understand that rejoicing life is also important, just as doing your chores or handling your responsibilities.
This is going to be a very good time for artists, a time with a lot of inspiration and maybe even fame!
Discussion