Aphrodita Urania
Posted on April 1, 2014 by Karni Zor in Astrological Forecasts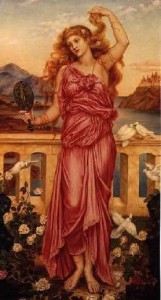 Two planets are changing locations in the skies – and this has an immediate effect upon our lives.
The first planet is Venus – moving from the Realm of the Diamond into the Realm of the Waterfall. And the second is Mercury –  avoiding beautiful Venus – just as Venus enters the Realm of the Waterfall, Mercury moves out of it and into the Realm of the Lake.
Venus' shift is a crucial one.
About a month ago Venus ended a long period of retrogression that evoked many challenges and lessons to do with our love life, feelings and our perceptions about our own femininity- (this goes to the ladies…) Venus began its retrogression journey in the Realm of the Diamond, went out of it back into the Realm of the Dolphin and after going back to its regular course Venus spent some more time in the Realm of the Diamond up till now. This unusual in-and-out journey helped us learn more from every perspective about the loyalty and stability of our emotions – which are the lessons to learn while Venus spends time in the hard-working, constant and loyal frequency of the Diamond Realm.
Venus' challenging journey has ended and  we can now feel lighter and move forward towards experiencing another part of the prism of possible feelings.
In the Realm of  Water, where Venus will spend the next few weeks, we can start to learn that our feelings do not have to be such a heavy issue at all, and that love has a higher level to it than just "meeting a guy/girl".
In the Realm of the Waterfall – which holds the key to our higher mental abilities – we can connect to what the ancient ones called "Aphrodita Urania".
Mythological Venus has many different stories of the way she was born. Each story tells of another role of Venus/Aphrodite, another part of the wide range of feelings one can feel.
One of the myths tells of Venus being born out of Uranus' head.
Uranus is the keeper of our higher mental abilities. Connecting it to the territory of love – which is the territory Venus rules,   this side of Venus will reveal the higher bar of our love, which is not of the flesh, but a constant feeling of gratitude and grace that we can feel in a constant way and also share with other people while tending to our life's purposes.
For the coming weeks we can connect to this higher part of the spectrum of love, as Venus travels the Realm of the Waterfall, and we can strive towards the higher bar of our immense range of feelings.
Discussion